March 27th, 2019
The Green Bay Blizzard travel to Moline Illinois to renew an old rivalry with the Quad City
Steamwheelers on Friday night at the Tax Slayer arena at 7:05pm CDT.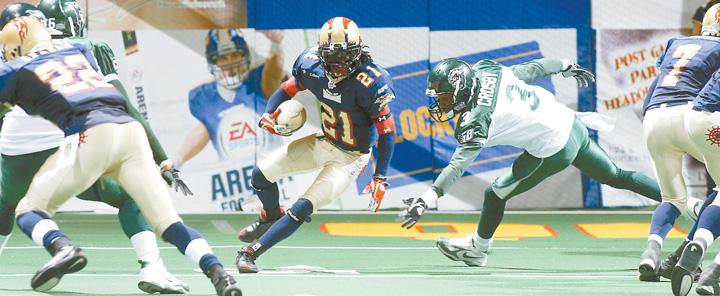 The Steamwheelers and Blizzard were instant rivals when the Blizzard franchise began in 2003. The
Steamwheelers were an established team in the af2 (Arena Football League developmental league).
And early on, the Steamwheelers dominated the Blizzard winning 5 of the first 6 meeting from 2003 to
2006. But the Blizzard fought back the next 4 seasons winning 7 of the last 10 games including a
dramatic playoff game in Moline in 2007 by the score of 39 to 34.
When the af2 dissolved after the 2009 season, the Steamwheelers also dissolved only to return in 2018
for one season in the CIF. They moved to the IFL for this season and the rivalry is renewed.
Green Bay and Quad City have identical records at 2 and 2. The Blizzard have defeated Nebraska and
San Diego while the Steamwheelers won games against San Diego and Cedar Rapids. The Blizzard are
coming off a win in San Diego this past weekend and the Steamwheelers lost in Sioux Falls.
Green Bay is led by quarterback Lenorris Footman on offence and defensive back Bakari Triggs.
Footman is second in the league in rushing yards and Triggs leads the league in interceptions. Quad
City's offence is led by quarterback EJ Hilliard who is first in the league with 18 touchdown passes and
no interceptions. Defensively the Steamwheelers are led by defensive back Danzel McDaniel who leads
the league in tackles.
Friday night's game starts at 7:05 and can be viewed for free on YouTube.
Blizzard vs Steamwheelers: https://www.youtube.com/watch?v=jBO92379dIY
- Mithc Nolan // Blizzard Cold Front